Simposio La Educación Superior y los retos para el futuro, internacionalización e integración en la región
PER
XVI Taller Internacional "La Educación Superior y sus Perspectivas".
PER-100. TEACHING ACTIVITY AT CETED: ACHIEVEMENTS AND CHALLENGES IN TIMES OF PANDEMIC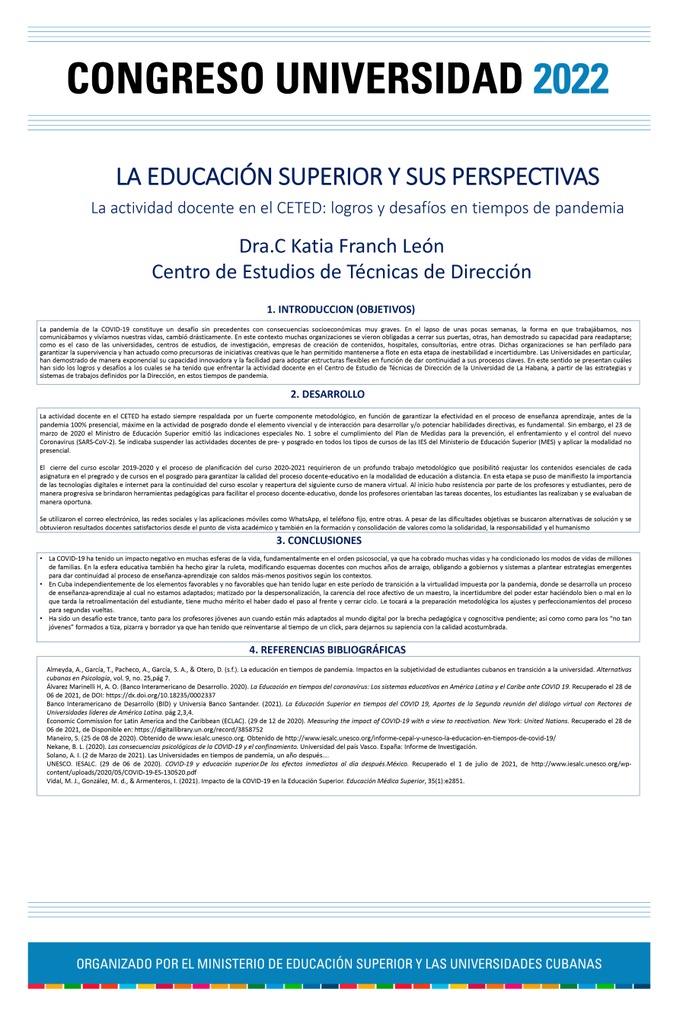 Resumen
La pandemia de la COVID-19 constituye un desafío sin precedentes con consecuencias socioeconómicas muy graves. En el lapso de unas pocas semanas, la forma en que trabajábamos, nos comunicábamos y vivíamos nuestras vidas, cambió drásticamente. En este contexto muchas organizaciones se vieron obligadas a cerrar sus puertas, otras, han demostrado su capacidad para readaptarse; como es el caso de las universidades, centros de estudios, de investigación, empresas de creación de contenidos, hospitales, consultorías, entre otras. Dichas organizaciones se han perfilado para garantizar la supervivencia y han actuado como precursoras de iniciativas creativas que le han permitido mantenerse a flote en esta etapa de inestabilidad e incertidumbre.Las Universidades en particular, han demostrado de manera exponencial su capacidad innovadora y la facilidad para adoptar estructuras flexibles en función de dar continuidad a sus procesos claves. En este sentido se presentan cuáles han sido los logros y desafíos a los cuales se ha tenido que enfrentar la actividad docente en el Centro de Estudio de Técnicas de Dirección de la Universidad de La Habana, a partir de las estrategias y sistemas de trabajos definidos por la Dirección, en estos tiempos de pandemia.



Abstract
The COVID-19 pandemic is an unprecedented challenge with very serious socio-economic consequences. In the span of a few weeks, the way we worked, communicated, and lived our lives changed dramatically. In this context, many organizations were forced to close their doors, others have demonstrated their ability to readjust; as is the case of universities, study centers, research centers, content creation companies, hospitals, consultancies, among others. These organizations have been shaped to ensure survival and have acted as precursors of creative initiatives that have allowed it to stay afloat in this stage of instability and uncertainty. Universities in particular have exponentially demonstrated their innovative capacity and the ease of adopting flexible structures in order to give continuity to their key processes. In this sense, the achievements and challenges that the teaching activity has had to face at the Center for the Study of Management Techniques of the University of Havana are presented, based on the strategies and work systems defined by the Directorate, in these times of pandemic.




Sobre el ponente Katia Franch León
CETED-UH