Simposio Extensión universitaria, compromiso y transformación social para un desarrollo sostenible.
EXT
XVI Taller Internacional de Extensión Universitaria.
EXT-032. Proyecto integrado para la educación social y cultural del Instituto de Farmacia y Alimentos de la Universidad de La Habana: Presencia en el desarrollo local del municipio La Lisa.
Resumen
En la ponencia se expresan las experiencias del Instituto de Farmacia y Alimentos de la Universidad de la Habana (IFAL-UH), en la contribución al desarrollo local en el municipio La Lisa, mediante la integración de los procesos sustantivos: docencia, investigación yla extensión universitaria como agente dinamizador para la transformación social, y aporte que ello implica a la formación integral de los estudiantes como futuros profesionales de Ciencias Farmacéuticas y Ciencias Alimentarias.
El Ministerio de Educación Superior tiene entre sus objetivos claves en su planificación estratégica la vinculación de las Universidades con los Gobiernos territoriales para favorecer una actitud de cambio y transformación social.
El presente trabajo expone algunas experiencias del Proyecto Integral para la EducaciónSocial, Cultural del IFAL-UH, desde la extensión universitaria y la valoraciónde su sostenibilidad en el territorio.
Se destacanentre la actividades del Proyecto: el asesoramiento en los procesos de aprobación de propuestas de proyectos que tributan al desarrollo local,la culminación de Tesis de doctoradosque brindan alternativas de solución a las problemáticas del territorio como: la preparación de los profesores de Historia para desarrollar el pensamiento histórico en los estudiantes y en la preparación de profesores en las actividades de extensión que tributen al desarrollo local, apoyo a los Centros para la Atención a la Covid 19la  educación nutricionalen el Sistema de Atención Familiar (SAF), entre otros,que han fortalecido el papel de la educación superior en el desarrollo territorial y transformación del modo de actuación de profesores y estudiantes.


Abstract
The presentation expresses the experiences of the Institute of Pharmacy and Food of the University of Havana (IFAL-UH), in the contribution to local development in the municipality of La Lisa, through the integration of substantive processes: teaching, research and university extension as a dynamic agent for social transformation, and the contribution that this implies to the comprehensive training of students as future professionals in Pharmaceutical Sciences and Food Sciences.
The Ministry of Higher Education has among its key objectives in its strategic planning the linking of Universities with territorial governments to promote an attitude of change and social transformation.
This work presents some experiences of the Integral Project for Social and Cultural Education of IFAL-UH, from the university extension and the assessment of its sustainability in the territory.
Among the activities of the Project, the following stand out: advice in the approval processes of project proposals that contribute to local development, the completion of doctoral theses that provide alternative solutions to the problems of the territory such as: the preparation of History teachers to develop historical thinking in students and in the preparation of teachers in extension activities that contribute to local development, support to the Centers for Attention to Covid 19 nutritional education in the Family Attention System (SAF), among others, which have strengthened the role of higher education in territorial development and transformation of the mode of action of teachers and students.

Sobre el ponente Dr. Javier Antonio
IFAL-UH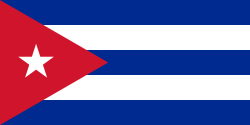 Trabaja como profesor de Historia de Cuba y Teoría Sociopolítica en el IFAL-UH