Simposio Vinculación universidad – empresa: una visión estratégica para el desarrollo sostenible.
UNE
I Taller Internacional Universidad – Empresa.
UNE-058 El perfeccionamiento de la Empresa Socialista y su influencia en la seguridad nacional.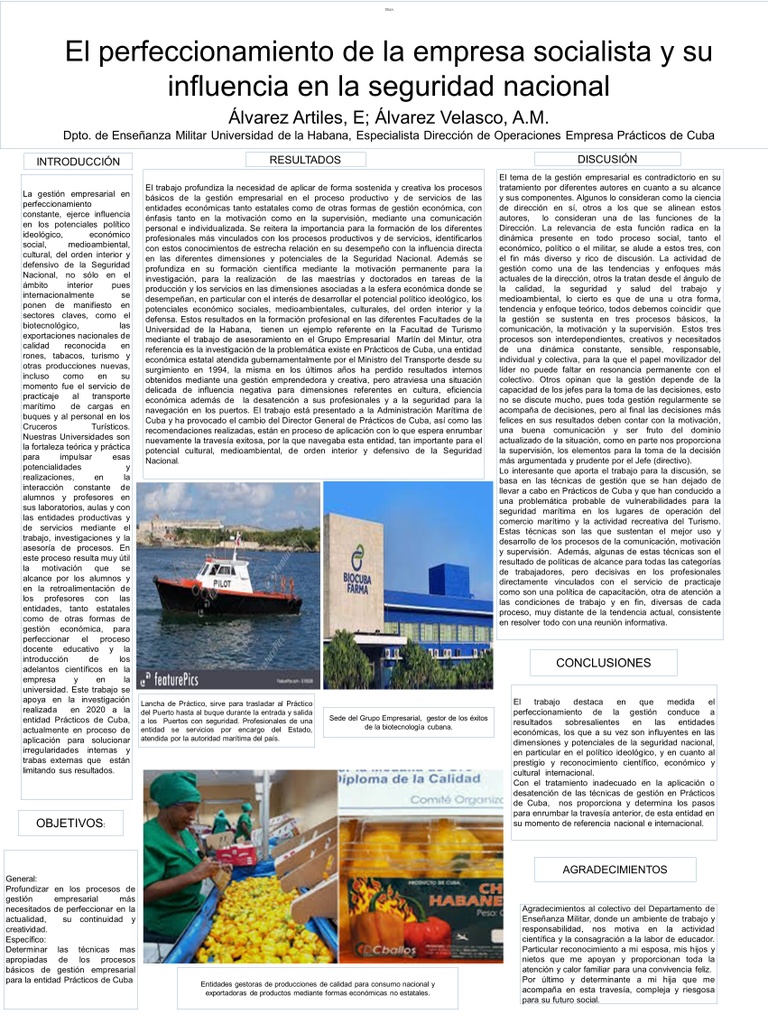 Resumen
El perfeccionamiento de la empresa socialista afecta y fortalece los potenciales económico social, científico tecnológico, cultural entre otros de la Seguridad Nacional no sólo en el ámbito interno; se manifiesta externamente, cuando se reconoce por la comunidad internacional logros en la fabricación de medicamentos de patentes únicos y de cinco candidatos vacunales próximos a ser declarados vacunas de efectividad demostrada. En el 2000 se le reconoció a Prácticos de Cuba, por la Asociación Marítima Internacional de Prácticos (IMPA International Maritime Pilots Association, por sus siglas en Inglés) la calidad de sus servicios, solamente antecedidos por Singapur, Francia y Alemania dentro de más de cien Estados Rector de Puerto en el mundo. Estos ejemplos acompañados del desarrollo local en más de cien municipios del país, tanto en producción como exportación de mercancías demuestran las potencialidades de una empresa socialista en perfeccionamiento como en su momento nos orientó el líder histórico de la Revolución Fidel Castro Ruz en su reflexión acerca de perfeccionar la ciencia de la dirección y gestión en todos los campos, aspectos acerca de los que, profesores de la disciplina de PPD insisten en las Facultades de Turismo, Economía y en fin en varias carreras universitarias, por ser parte de la preparación integral en su formación. La relación Universidad empresa ha estado presente siempre y sus resultados se están formando y perfeccionando en nuestras aulas, laboratorios y proyectos conjuntos en desarrollo.

Abstract
The improvement the socialist company affects and strengthens the potentials economic social, scientist technological, cultural, between others of National Safety, but not only in the internal space; it becomes manifest externally also, when recognizes us for the international community scientific achievements in the manufacture of national medicine only at world, and five candidates patent medicines proximate to be declared vaccines of effectiveness demonstrated. In 2000 recognized to Cuban Pilots by International Maritime Pilots Association (IMPA) the quality of services of the pilotage in Cuba, only preceded for Singapore, France and Germany within them over one hundred States Port's Leader in the world. These examples accompanied of local development made firm in more one hundred municipality of country so much in production as exports       are obvious examples become of the potentialities of a socialist company in permanent improvement, how in its time, the historic leader of the Revolution Fidel Castro Ruz in his reflection about the need to improve the science of direction and manage at all fields, aspects about who professors of PPD discipline insist on Tourism, Economic  Faculties and at end in some university studies, because is integral part of your training. The relation University and company has been present always and his aftermath are taking shape and making perfect at our classrooms, laboratories, and in development joint tasks.

Sobre el ponente Prof. Esmildo Alvarez Artiles
Universidad de La Habana