Simposio La Educación Superior y los retos para el futuro, internacionalización e integración en la región
PER
XVI Taller Internacional "La Educación Superior y sus Perspectivas".
PER-032. Aula invertida. Perspectiva de su implementación en la Universidad de La Habana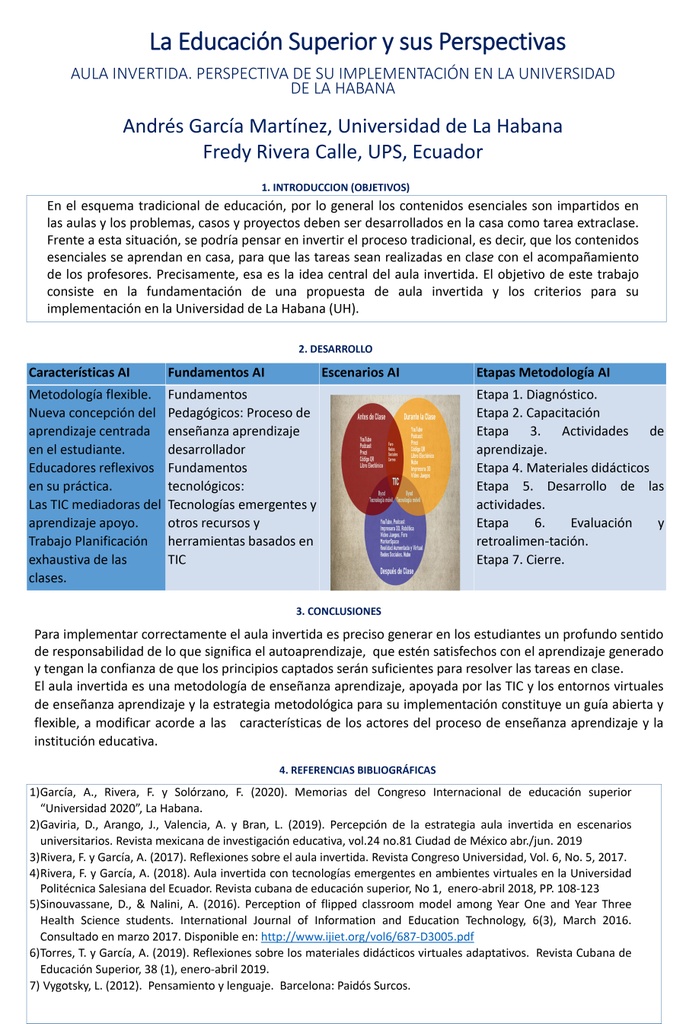 Resumen
En los últimos años hemos asistido a un cambio extraordinario en educación. Las aulas de muchos centros de educación poseen pizarras digitales, ordenadores, proyectores de vídeo y, quizá lo más extraordinario, ordenadores portátiles y teléfonos inteligentes con conexión a Internet en las mochilas de los estudiantes. Educar en la época actual es ofrecer oportunidades para que tengan lugar cambios significativos en la manera de enseñar y de aprender y superar los límites físicos y organizativos del aula, uniendo contextos formales e informales de aprendizaje, aprovechando al máximo las ventajas del uso de las tecnologías de la información y la comunicación (TIC). El aula invertida es una modalidad de enseñanza semipresencial, donde los alumnos aprenden los conceptos por sí mismos, usando normalmente videos educativos, archivos de audio (podcasts) y otras tecnologías, mediante la colaboración entre los compañeros en comunidades en línea. En el trabajo se presenta una propuesta de aula invertida factible de implementar en las universidades, aunque no posean un piso tecnológico alto. 
Abstract
In recent years we have witnessed an extraordinary change in education. The classrooms of many educational centers have whiteboards, computers, video projectors and, perhaps most extraordinarily, laptops and smartphones with an Internet connection in students' backpacks. Educating in the current era is to offer opportunities for significant changes to take place in the way of teaching and learning and to overcome the physical and organizational limits of the classroom, uniting formal and informal learning contexts, making the most of the advantages of the use of technologies of information and communication (ICT). The inverted classroom is a blended teaching modality, where students learn the concepts on their own, usually using educational videos, audio files (podcasts) and other technologies, through collaboration between peers in online communities. In the work, a proposal for an inverted classroom that can be implemented in universities is presented, even if they do not have a high technological floor. 
Sobre el ponente Dr. Andrés García Martínez
UH