Simposio La Educación Superior y los retos para el futuro, internacionalización e integración en la región
PER
XVI Taller Internacional "La Educación Superior y sus Perspectivas".
Title: Improvement of the internal control system in the Dispatch Department of the University of Cienfuegos.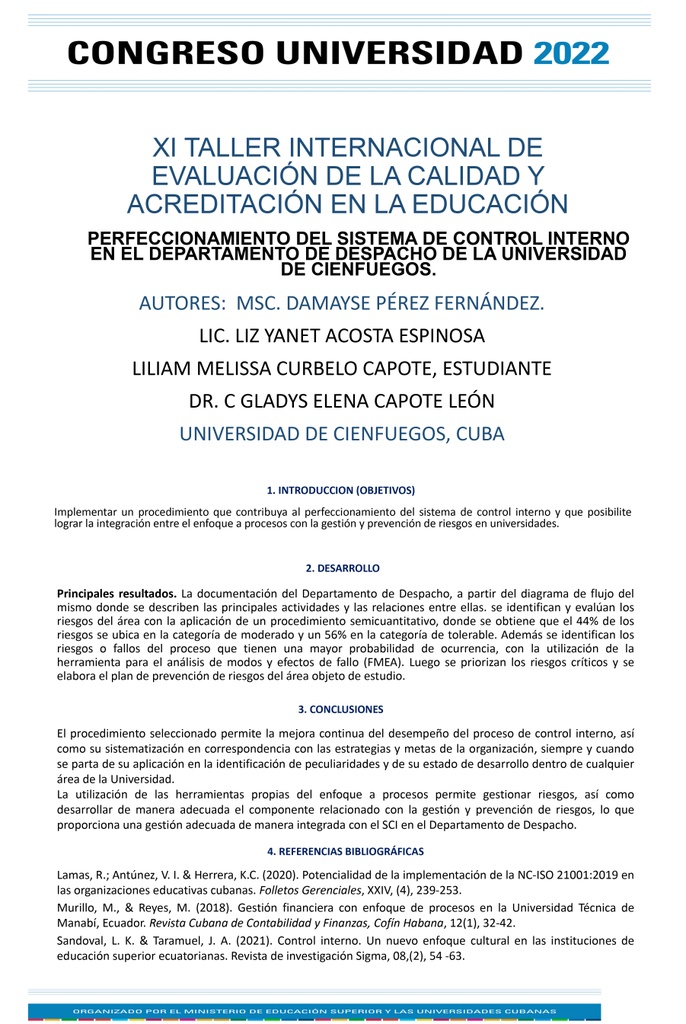 Abstract
This investigative work is developed in the Dispatch Department of the University of Cienfuegos, with the aim of implementing a procedure that contributes to the improvement of the internal control system and that makes it possible to achieve the integration between the approach to processes with the management and prevention of risks in universities. Techniques and tools such as: document review and analysis, application of checklists, Flow diagram, FMEA (Failure Modes and Effects Analysis), control plans and prevention plans were used to establish a series of improvement proposals. . For the processing and analysis of the information, the Office program package is used: Microsoft Visio 2010. As fundamental results are obtained: the documentation of the Dispatch Department, the risks of the area are identified, the critical ones are prioritized and prevention plans are proposed.

Resumen
El presente trabajo investigativo se desarrolla en el Departamento Despacho de la Universidad de Cienfuegos, con el objetivo de implementar un procedimiento que contribuya al perfeccionamiento del sistema de control interno y que posibilite lograr la integración entre el enfoque a procesos con la gestión y prevención de riesgos en universidades. Se utilizaron técnicas y herramientas tales como: revisión y análisis de documentos, aplicación de listas de chequeo, diagrama de Flujo, FMEA (Análisis de Modos y Efectos. Para el procesamiento y análisis de la información se utiliza el paquete de de Fallo), planes de control y planes de prevención para establecer una serie de propuestas de mejoras programas de Office: Microsoft Visio 2010.
Como resultados fundamentales se obtienen: la documentación del Departamento de Despacho, se identifican los riesgos del área, se priorizan los críticos y se proponen planes de prevención.


About The Speaker Prof. Damayse Ramona Pérez Fernández
UCf