Simposio La Educación Superior y los retos para el futuro, internacionalización e integración en la región
PER
XVI Taller Internacional "La Educación Superior y sus Perspectivas".
The Pedagogy the epistemic debate, the pandemic as a scenario.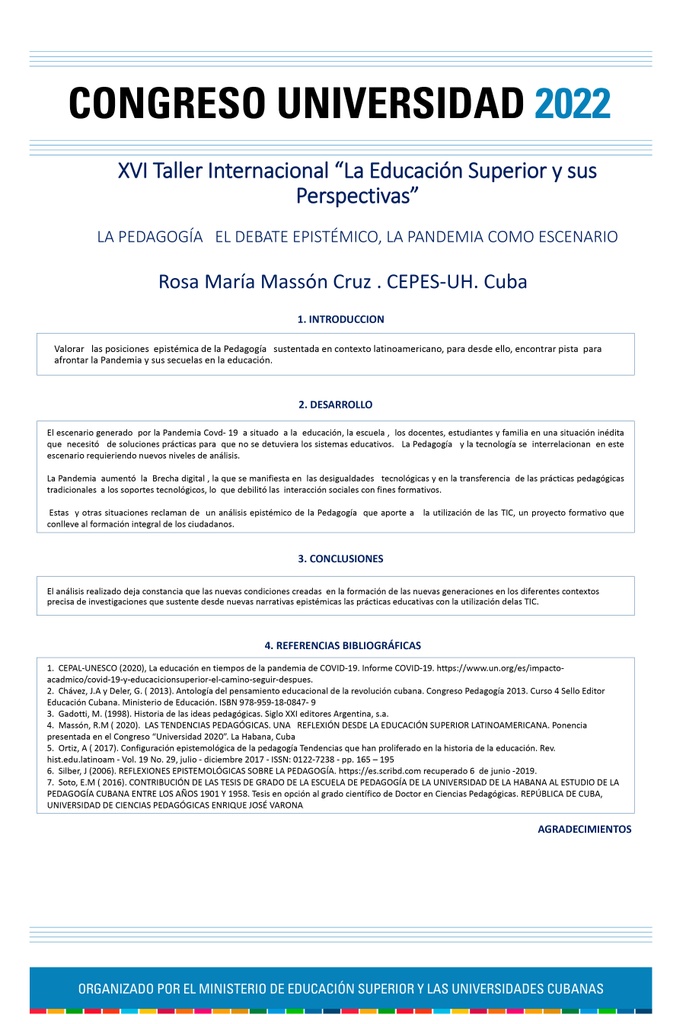 Abstract
Pedagogy, its epistemic status and its influences on educational practices, is a topic that does not have a continuity in the scientific debate, its analysis from history shows that under the imperative of theorizing about education and educational practices, they left constituting the pedagogical tendencies, supported by philosophy, sociology, psychology, biology, among the sciences that most contribute to the epistemic debate. These debates were generated from countries with more developed economies, the North, reaching the South, economically less developed countries contextualizing and enriching themselves. In complex macroeconomic dynamics and unfavorable to a diverse dialogue on pedagogy and its implications in practice, the twentieth century was dismissed and the twenty-first century was received, where a globalizing pedagogy carrying a homogeneous discourse was assumed as absolute truth, which ceased to be drastically low functional. The conditions imposed by the Cov19 pandemic. The objective of the presentation is to systematize the positions that have been developed in recent decades on pedagogy
Resumen
La pedagogía su estatuto epistémico y las influencias de este en las prácticas educativas , es un tema que no tiene una continuidad en el debate científico , su análisis desde la historia demuestra que bajo el imperativo de teorizar sobre la educación y las prácticas educativas , se fueron constituyendo las tendencias pedagógicas , sustentadas por la filosofía, la sociología, la psicología, la biología, entre las ciencias que más aportan al debate epistémico. Estos debates se generaron desde países de economías más desarrolladas, el Norte, llegando al Sur, países económicamente menos desarrollados contextualizándose y enriqueciéndose. En dinámicas macroeconómicas complejas y desfavorecedora de un diálogo diverso sobre la pedagogía y sus implicaciones en la práctica se despidió el siglo XX y recibió le XXI, donde se asumió como verdad absoluta una pedagogía globalizadora portadora de un discurso homogéneo el que dejo de funcional drásticamente bajos las condiciones que ha impuesto la pandemia del Cov19. El objetivo de la ponencia es sistematizar las posiciones que se han desarrollado en las últimas décadas sobre la pedagogía valorando los aportes de Latinoamérica, para ello se recolocaron interrogantes que ayudan a sustentar la necesidad del debate pedagógico en la actualidad.   
About The Speaker Dr. Rosa María Massón Cruz
UH