Simposio La Educación Superior y los retos para el futuro, internacionalización e integración en la región
PER
XVI Taller Internacional "La Educación Superior y sus Perspectivas".
CONSIDERATIONS ABOUT THE APPLICATION OF ACTIVE METHODS TO FAVOR THE PROFESSIONAL FORMATION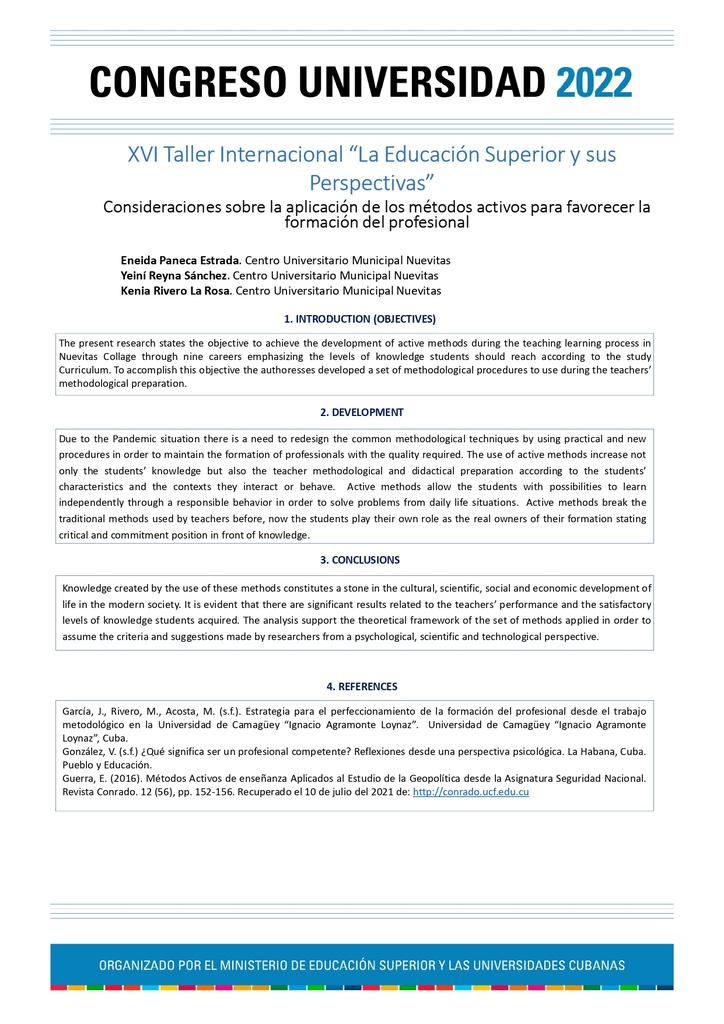 Abstract
The formation of present and future generations demands that teachers transform their professional performance, which assume the searching of new methods and procedures for teachers' preparation. The present research shows the methods used to better up the teachers preparation in Nuevitas Collage due to a methodological problem which requires the use of science, the methodology and didactic for a solution in order to satisfy the human and society needs in general. The initial results permits to determine the lack of methodological, practical and pedagogical elements teachers demonstrate according  to  their  students' needs during  the  teaching  activity  likewise  the  levels  of motivation they develop at the time to use methods, principles and material aids to solve teaching problems.  
In order to solve these deficiencies the research presents a set of methods and some procedures  dedicated  to  teachers  to  use  during  the  teaching-learning  process  they develop with the university students in Nuevitas.

Resumen
La  formación  de  las  presentes  y  futuras  generaciones  exige  que  los  docentes transformen  su  actuación  profesional  lo  cual  impone  la  búsqueda  de  métodos  y procedimientos  novedosos  para  su  preparación.  El  trabajo  muestra  los  métodos utilizados  para  perfeccionar  la  preparación  de  los  docentes  del Centro  Universitario Municipal en Nuevitas como respuesta a un problema que requiere de la ciencia, la metodología  y  la  didáctica  para  su  solución  logrando  satisfacer  las  necesidades humanas y de la sociedad en general. A partir del estado inicial analizado se detectaron
deficiencias que presentan los profesores relacionadas con el dominio de determinados aspectos metodológicos y su accionar práctico manifestado en la ejecución de su labor y el grado de motivación que utilizan durante el empleo de métodos, principios y medios
para dar solución a los problemas que demanda la práctica profesional.  Para  contribuir  a  la  solución  de  las  deficiencias  planteadas  se  propone  un  set  de métodos  y  algunos  procedimientos  para  ser  utilizado  por  los  profesores  durante  el proceso de formación de los profesionales en Nuevitas.

About The Speaker Prof. Eneida Paneca Estrada
UC