Simposio Calidad de la Educación Superior y el Posgrado: actualidad y retos para un desarrollo sostenible.
POS
XVI Taller Internacional "Junta Consultiva sobre el Postgrado en Iberoamérica".
THE PROFESSIONAL IMPROVEMENT OF SPEECH THERAPISTS FROM AN INTERDISCIPLINARY AND INTERSECTORAL PERSPECTIVE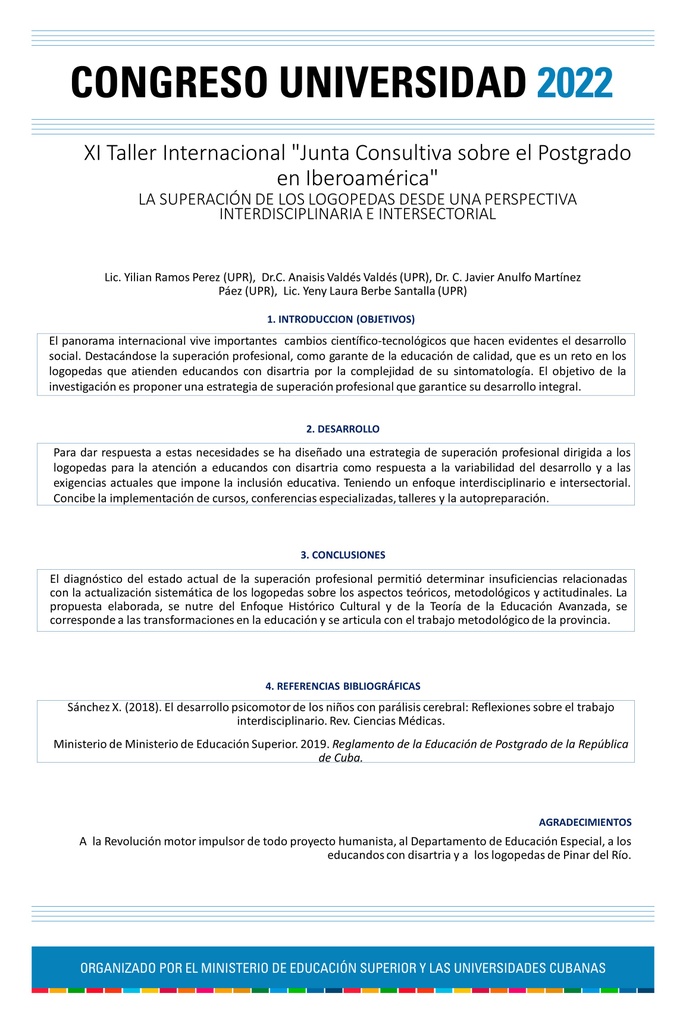 Higher education the 21 st century is called upon to demonstrate to the social community is credibility and economic viability. Inasmuch as the permanent training of teachers represents process a stage of the training process, which develops among other spages, in professional improvement, where systematic updating leads to the renewal of affective and cognitive learning. Process that constitutes a challenge in the speech therapists who care for students with dysarthria due to the complexity of this symptomatology and the comprehensiveness they need as active entities of society .The aforementioned criteria are revealed in the exploratory study carried out by the author since 20918, through different research methods and her experience as a speech therapist and teacher of the discipline speech therapy. As a response to this problem a professional improvement strategy has been designed aimed at the speech therapists in the province Pinar del Río for the assistance to those who suffer from dysarthria, which creatively applies the historical-cultural approach the theory of advance education, to promote interdisciplinary and interseptorial work in lofopedic care for dysarthria.

La Educación Superior del siglo XXI está llamada a demostrar a la comunidad social su credibilidad académica y su viabilidad económica. Desafíos que se concretan en el rol de la universidad, como motor transformador de la sociedad y gestor del conocimiento para el desarrollo institucional y del país, Por cuanto la formación permanente de los maestros representa un estadio del proceso de formación, el que se desarrolla entre otros, en la superación profesional; donde la actualización sistemática en ellos, conduce a la renovación de los aprendizajes afectivos y cognitivos precedidos. Proceso que constituye un reto en los logopedas que atienden educandos con disartria por la complejidad de esta sintomatología y la integralidad que demanda su tratamiento. En tal sentido, se requiere de un logopeda con las herramientas necesarias para que los educandos con este trastorno se desarrollen en un ambiente favorecedor  a tono con la calidad educativa que merecen como entes activos de la sociedad. Los criterios mencionados se ponen de manifiesto en el estudio exploratorio realizado por la autora desde el  año 2018, a través de diferentes métodos empíricos de investigación y su experiencia como  logopeda y profesora de la disciplina Logopedia. Como respuesta a esta problemática se ha diseñado una estrategia de superación profesional dirigida a los logopedas de la provincia Pinar del Río para la atención a los educandos con disartria, que aplica de manera creadora el enfoque histórico-cultural y la teoría de la educación avanzada para potenciar el trabajo interdisciplinario e intersectorial en la atención logopédica a la disartria

About The Speaker Prof. Yilian Ramos Perez
Universidad de Pinar del Río