Simposio Formación de profesionales competentes desde una perspectiva inclusiva y equitativa, por un desarrollo sostenible.
PED
XIII Taller Internacional de Pedagogía de la Educación Superior.
English Speaking Assessment within English Improvement Policy in Cuban Higher Education
Assessing English learning as a foreign language is a relevant aspect within the policy for improving the English language learning in Cuban higher education. The authors of this paper, members of the Cuban Language Assessment Network in Higher Education, designed tasks, as well as an analytical rating scale to evaluate the student's performance in English speaking skill at university level. This aspect is part of the priorities of the network, which includes specialists from all the Cuban universities, led by the University of Informatics Sciences and guided by Claudia Harsch, PhD, from the University of Bremen, Germany. The purpose of this paper is to describe the results achieved so far in the tasks design to evaluate English speaking skill and its corresponding rating scale. To achieve this objective, several workshops of a theoretical-practical nature were held, which came up with the tasks and the scales. As the main result, a task proposal was obtained to evaluate speaking skill that includes both production and interaction. Similarly, an analytical rating scale was developed, based on the descriptors of the Common European Framework of Reference for Languages and adapted to the Cuban context. This paper is the result of around four years of hard-teamwork which is still in progress.
La evaluación del aprendizaje del inglés como lengua extranjera es un aspecto relevante dentro de la política de perfeccionamiento de este idioma en la educación superior cubana. Los autores de este trabajo, miembros de la Red Cubana de Evaluación de Idiomas en la Educación Superior Cubana, diseñaron y elaboraron tareas, así como una escala analítica de calificación para evaluar el desempeño de los estudiantes en la habilidad de expresión oral en inglés en el nivel universitario. Este aspecto forma parte de las prioridades de la red, que incluye a especialistas de todas las universidades cubanas, lideradas por la Universidad de Ciencias Informáticas y con el asesoramiento de la doctora Claudia Harsch de la Universidad de Bremen, Alemania. El propósito de este trabajo es describir los resultados alcanzados hasta el momento en el diseño de tareas para evaluar la habilidad de expresión oral en inglés y su correspondiente escala de calificación. Para lograr este objetivo, se realizaron varios talleres de carácter teórico-práctico, en los que se elaboraron las tareas y las escalas. Como principal resultado, se obtuvo una propuesta de tarea para evaluar la expresión oral que incluye tanto la producción como la interacción oral. Asimismo, se elaboró una escala analítica de calificación, basada en los descriptores del Marco Común Europeo de Referencia para las Lenguas y adaptada al contexto cubano. Este trabajo es un resultado parcial de aproximadamente cuatro años de arduo trabajo en equipo que aún está en proceso.

About The Speaker Prof. Ioani García Fernández
Universidad de Cienfuegos "Carlos Rafael Rodríguez"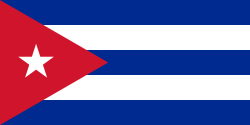 Trabaja como profesora de idioma inglés y Especialista de Relaciones Internacionales en la Universidad de Cienfuegos "Carlos Rafael Rodríguez"