Simposio La Educación Superior y los retos para el futuro, internacionalización e integración en la región
VIR
IX Taller Internacional "La Virtualización en la Educación Superior".
VIRTUAL WORKSHOPS AS A TRAINING STRATEGY ON THE MOODLE PLATFORM
The Virtual Workshops of the subspecialties of the Cuban Institute of Ophthalmology
"Ramón Pando Ferrer", arose from the need to comply with social distancing in the current
times of pandemic and respond to the demand for continuing education. They became an
excellent opportunity to train teachers and students in navigation and interaction with the
virtual classroom since previous experiences in this medium were minimal and it is
intended to establish virtual courses in the future. The objective of this work is to present
the results of the virtual workshops as training on the MOODLE platform. Methodology:
three workshops were organized divided into a welcome section, working section, closing
and satisfaction survey. The resources and activities offered by the MOODLE platform
were used for the presentation of the works and the scientific exchange. Results: not all
those enrolled in the workshops participated in the surveys. About 80% were teachers,
the other 20% had no teaching status. The experience in the use of the virtual classroom
was increased. The experience was evaluated as very good by more than 70%. The main
barriers that, according to the respondents, intervene in the development of activities in
the virtual classroom are related to professional preparation, ignorance, availability and
quality of the internet connection, access to technologies, among others. Conclusions:
virtual workshops contribute to the identification and interaction of students and teachers
with the virtual classroom functioning as training prior to the development of virtual
courses in the institution. 
Los Talleres Virtuales de las subespecialidades del Instituto Cubano de Oftalmología
"Ramón Pando Ferrer", surgieron como necesidad de cumplir el distanciamiento social
en los tiempos actuales de pandemia y dar respuesta a la demanda de la educación
continuada. Se convirtieron en una excelente oportunidad para entrenar a profesores y
estudiantes, en la navegación e interacción con el aula virtual ya que las experiencias
previas en este medio eran mínimas y se pretende establecer en un futuro cursos
virtuales. El objetivo del presente trabajo es exponer los resultados de los talleres
virtuales como entrenamiento en la plataforma MOODLE. Metodología: se organizaron
tres talleres divididos en sección de bienvenida, trabajo, clausura y encuesta de
satisfacción. Se emplearon los recursos y actividades que ofrece la plataforma MOODLE
para la presentación de los trabajos y el intercambio científico. Resultados: no todos los
matriculados en los talleres participaron en las encuestas. Alrededor del 80% eran
profesores, el otro 20% no poseía categoría docente. Se incrementó la experiencia en el
uso del aula virtual. La experiencia fue evaluada de muy buena por más del 70%. Las
principales barreras que según los encuestados intervienen en el desarrollo de
actividades en el aula virtual están relacionadas con la preparación profesional, el
desconocimiento, la disponibilidad y calidad de la conexión de internet, el acceso a las
tecnologías, entre otras. Conclusiones: los talleres virtuales contribuyen a la identificación
e interacción de estudiantes y profesores con el aula virtual funcionando como
entrenamiento previo al desarrollo de cursos virtuales en la institución.
About The Speaker Dr. Daylin Cárdenas Chacón
Instituto Cubano de Oftalmología "Ramón Pando Ferrer"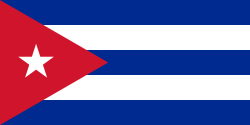 Especialista de 2do Grado en MGI y Oftalmología, profesora auxiliar, investigadora agregada. Editora del sitio Glaucoma del portal Infomed. Asesora del Aula Virtual de Salud en el Instituto Cubano de Oftalmología "Ramón Pando Ferrer".